Awards Recognition Banquet
Each year, SI/Bidwell Rancho, recognizes the honorees at their annual Awards Recognition Banquet held in March this year in collaboration with International Women's Day. The purpose is to celebrate the wonderful work women and girls are doing in our communities and present our Honorees with certificates of recognition, along with their award checks. This is a special evening where honorees are brought together to tell their stories, and are recognized for "Living their Dreams".
2022 Award Winners
LIVE YOUR DREAM: Education and Training Award
This year we awarded 3 Live your Dream Awards
Juanita M.: $1,500 LYD Awardee
Juanita is a single mother of four currently pursuing her Bachelor's degree in Health Services Administration at Chico State while she works to support herself and her children.
 

She is well on her way to fulfilling her dreams of becoming a first generation graduate and this scholarship will "help decrease some financial stress so that I can continue to focus on completing my education."
Desiree L.: $1,000 LYD awardee
Desiree is a single mother of two, has been working as a Licensed Vocational Nurse for 8 years.
 

Desiree has applied for the 2022 step -up LVN to RN Program at Butte College to continue on the path of fulfilling her dream of becoming a registered Nurse.
Shiana C.: $1,000 LYD awardee.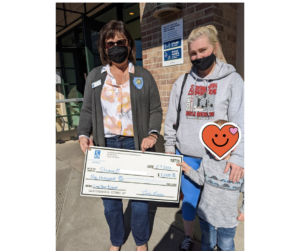 Shiana is a single mother of two, currently works as a medical assistant in Chico and is a Combat Medic with the Army National Guard.
 

Shiana is finishing up her pre-requisites at Butte College and will be applying to Chico State to fulfill her dreams of becoming a trauma Nurse.

 
Congratulations Juanita, Desiree and Shiana!
Special Member Recognition:
Congratulations to Dawn Letner for 25 years of service!
(left to right) Sheron Box, SNR Treasurer, Dawn Letner, Linda Lucena, SIBR president
Follow us on Social Media: